Do you want free sound effects and background music? 
There are lots of free sound effects and background music sites online, perfect for indie game developers from beginners to pros however finding reliable, high quality free sound effects can be a challenge.
There are so many options, it is overwhelming so I have reviewed the top 20 free places to find free sound effects for video games typically listed online  and picked out my top favourite four to narrow the field and give you a brief overview of the options.
These are my top favourite because they meet this criteria:
Their sound effects for games are free
They have high quality sounds.
They have easy download options.
The have clear and simple license terms.
How to license sound effects for video games?
Before I jump into my favourite sound effect libraries it is worth explaining what to look out for when licensing music and sound effects for video games. 
The industry of game development is growing and the game music  and game sound design industry is thriving.
At the time of writing, licensing music for video games is much the same as licensing music for video or any other media format. 
Music and sound effects have copyright on them, owned by the creator and the recorder of the music and sound effects. 
Before you use music and sound effects in your game you need to ensure that you have full permission from the copyright owner  to use the music or sound effect. 
Whenever talking about music copyright, it can get very detailed very quickly, so in the interest of keeping this simple here are the two types of copyright in every recorded piece of music.
1 – Copyright owned by the creator / composer / songwriter
2 – Copyright owned by whoever recorded the music. 
So, you might have a track written by a songwriter and recorded by a major record label. 
The songwriter owns the composition copyright.

The record label owns the rights to the recorded version.
This is a very basic explanation, but it highlights that to use music you really need to ensure you have full permission to use the music – both the composition and recorded version you choose.
The best option is to choose royalty free music from a trusted royalty free music supplier who clearly explains how you can use the music. Such music will have all the copyright included with a clear written licence. This makes music licensing really simple which is why royalty free music is really popular. 
When looking at a royalty free music supplier online, check:
1 – Can you use the music for commercial and noncommercial use. 
This means that if you decide to monetise your game in the future, you can do so.
2 – Do they need attribution? 
A lot of royalty free music sites give music away for free in return for an attribution, or shout out. I.e. add credit to the music supplier in your work. 
Best Places to Find Free Game Sound Effects
99 Sound Effects, via 99Sounds
99Sounds describe themselves simply as "we craft sounds". I love the straight forwardness of this!  They are an indie sound design label that has a fantastic free collection of sound effects, drums loops and VST plugins (virtual instrument plugins for the non music production folk reading this)
The 99 Sound Effects collection is an excellent collection of free sound effects that can be used for game development, YouTube, TV, film and a whole load of other content. 
I highly rate this free sound effects pack as it contains 99 high quality audio files in the 24-bit .WAV format. 
Getting high quality .WAV files is really important if you are a game developer as you will not have any sound issues looping .WAV files unlike .MP3 files. (Check out my other blog here for more information on what file type to use for video game development.)
It is an awesome collection of high quality sound effects for free with hits, punches, drones and everything else in between.
Licence Information for 99Sounds. 
99Sounds have really clear license information which you can read here:
In a nutshell they are:
Royalty Free
You May modify audio files according to your requirements and use them for creative purposes like game development
No attribution required (however – If you can link back to 99Sounds and give them a shout out – do!. As an artist myself who gives work away for free this really helps. )
Donations accepted.
Free Game Sound FX, via GameBurp
If you are looking for a classic retro game sound effect then the free game sound effects download from GameBurp is definitely worth a listen.
For the free bundle, you get 30 free effects. If you want more, you can opt for the 2000 Sound FX Collection which normally retails at £29.00
The audio files are supplied in high quality .WAV format (44.1kHz / 16bit) and addition, the .OGG files are included.
If you don't use a middleware software such as FMOD or WWISE to manage your game audio, working with .OGG files is a good option as you retain quality audio but at a fraction of the file size. In addition, .OGG files can be beautifully looped unlike .MP3.
I really like the GameBurp website. It is clear and concise with a nice retro vibe. It is easy to navigate and find what you are after.
Licence Information for GameBurp
According to the licence terms on GameBurp:
A) You Can –

Use GameBurp Sound Effects in your own games, apps and media for both commercial and personal non-commercial use where the sounds are synchronized with other elements.
The license terms are really clear and are clearly outlined on the license page here: 
http://www.gameburp.com/license/
If you are looking for more general sound effects, like day to day sounds or very specific categories such as "town/city ambience", this site has a large and well catalogued collection.
There is a large collection of sounds and this sound bank is very useful if you know exactly what you want, for example, "a broom sweeping".
The sound effect has over 4500 sounds which is immense! 
Licence Information for Free SFX
To benefit from free sound effects from Free SFX, you must credit  freesfx.co.uk
Free SFX are not specific on how you do this, as long as you include their website URL in your credit.
Check out this page to read the license agreement from Free SFX however I have not managed to find their full terms and conditions yet. – https://freesfx.co.uk/
It is worth pointing out that sound effects are provided as .MP3 from SFX. High quality .WAv sounds do not appear to be included. 
Sound jay is a small yet good collection of sound effects. The site is really clearly laid out making it easy to find what you might be looking for.
The audio files provided are high quality .WAV files (16bit, 44.1kHZ) which is excellent.
Licence Information for Sound Jay
The terms of use are clearly outlined in their licence page here:
https://www.soundjay.com/tos.html
In general You are allowed to use the sounds free of charge and royalty free in your projects (such as films, videos, games, presentations, animations, stage plays, radio plays, audio books, apps) be it for commercial or non-commercial purposes.
General High Quality Sound Effects – Some Paid for Options
Sometimes it is not always possible to find the sound effect that you are looking for, for free and you may have to invest in some sound effects for your long term library.
One of my personal recommendations is the sound effect pack from "Sounds Effect Pack".
These guys have a bundle download of 3000, high quality sound effects.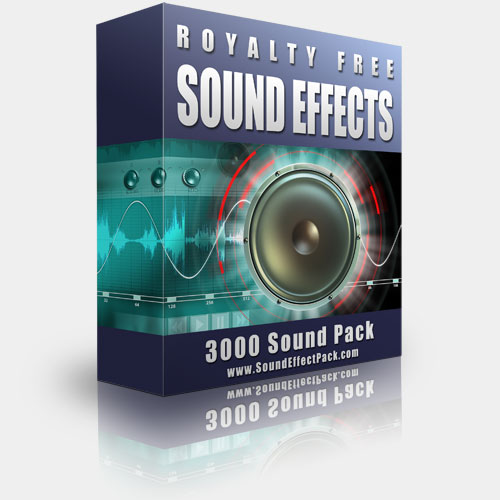 Unlike a lot of large bundles, you can view the names of the files and decide if this is a good investment for you. 
In the list of sound files you will variations of sound effects for example:
Laser sword hit 01

Laser sword hit 02

Laser sword hit 03

Laser sword hit 04

Laser sword hit 05
For video game sound design in particular, have this range and variety of options is really important as you can programme your game sounds to have different sounds with different strikes. 
The sound effects are 100% royalty free and can be downloaded instantly. The sounds themselves are delivered in high quality .WAV and .MP3 files and are recorded for best quality.
You can download these sounds and know that you are safe as they are backed up with a full licence that allows you to use the sounds forever.
In addition it is stated on the website that these sounds can be used in "Computer and Video Games", so although you can use them in a multitude of places, if you are concerned about video game development in particular, you know you are covered.
You can go straight to the website to download or use my link below, which will give me a commission for a referral.
GO TO SOUND EFFECT PACK WEBSITE to purchase
How to check the quality of my game sounds?
In all these recommendations, I talk about the quality of the sounds but what do I mean by this and how can you evaluate the quality of these sound effects?
Firstly, check if your music or sound effect supplier can give you high quality .WAV files. This means that the audio files are not compressed but more importantly, for game development you will be able to loop these files seamlessly if you need too.
Check out my article "what is the best audio file format for game dev" for more information"
Secondly, I listen to or monitor sounds on high quality studio sound systems. This allows me to hear the details. If however you do not have access to high quality studio speakers start by listening to the sounds on headphone.
Listen out for any "hiss" or "low rumble". It can be useful to concurrently listen to your favourite music track and swap between music and the sound effect to see how the audible compare.
Are they roughly the same volume? Are the roughly the same quality?
We call this critical listening in the industry and if you are selecting music and sound effects for your game development projects, it is worth paying attention to the details of the sound if possible to increase the overall quality of your game sound design. 
Download Free Background Music for Games
If you are looking for free music for your video game soundtracks, please check out my own collection of music. 
All my music is free, is licensed as royalty free and has a full licence attached to each track.
The files are delivered in high quality .WAV files which you can loop to fit your video game design. 
Here are some of my more popular music for video game development:
Disclaimer: This blog is intended as a guide only for educational and informational purposes. It is not legal advice. The content contained in this article is not legal advice or a legal opinion on any specific matter or matters.